What is Simponi®?
Simponi® is the only anti-TNF with just one injection each month for adults with:
Moderate to severe rheumatoid arthritis (RA), with the medicine methotrexate
Active psoriatic arthritis (PsA), alone or with the medicine methotrexate
Active ankylosing spondylitis (AS)
Once you and your doctor are comfortable with the self-injection process, you will inject Simponi® under the skin, just once a month.
How Do I Take Simponi®?
Simponi® comes in a prefilled syringe (needle) or an automatic injector (pen). You should be instructed on how to give yourself injections by a healthcare professional. Each syringe or pen holds 50mg of Medication. You will inject one dose every 4 weeks. This medication must be refrigerated. Do not freeze this medicine.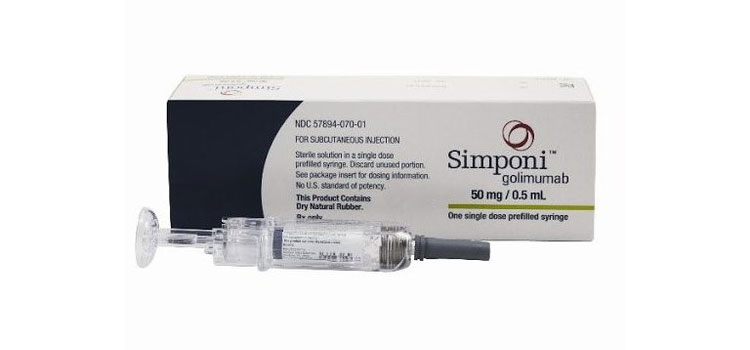 Where Should I Inject Simponi®?
You can inject Simponi® under the skin of your lower stomach, front of your thighs, and back of your upper arms (with help from a caregiver) into the fat tissue between your skin and muscle. If you're injecting the medication into your stomach, make sure it's at least 2 inches away from your belly button. Never inject the medication into your muscle or vein. To Lower The Risk Of Bruising And Irritation, alternate injection sites each time you use this medication. Each injection should be given at least 1 inch away from the site you used previously. Don't inject into skin that is tender, bruised, red, scaly, or hard, or where there are scars or stretch marks.
What Should I Do If I Forget A Dose Of Simponi®?
Inject the missed dose as soon as you remember it, and then inject your next dose at the regularly scheduled time. However, if it is almost time for the next dose, skip the missed dose and continue your regular dosing schedule. Do not inject a double dose to make up for a missed one. Call your doctor or pharmacist if you do not know when to Inject Simponi® Injection.
Buy Simponi® Online
Simponi® is a TNF inhibitor used as an immunosuppressive medication so it is not readily available everywhere. Now you can buy Simponi® online from Online Drug Store. Healthwire Georgia is serving the citizens with reliable and speedy service at the most reasonable rates. If your doctor has prescribed you this medication, then with the prescription of your doctor you can order it now.
Where To Buy Simponi® Medications
Are you anxious about where to buy Simponi® medications? Healthwire Georgia has got your back. Healthwire Georgia is known for efficient and reliable services! It is rarely stocked in local drugstores as it is a prescription medicine and can only be obtained with a prescription from Specialty Pharmacies. Then, you just have to order it from Healthwire Georgia, and we will deliver the product to your doorstep.
Buy Cheaper Simponi® 50mg Online
If you are looking for somewhere to buy cheaper Simponi® online. Before Buying Simponi®, you always have to check reviews of the seller carefully to avoid quacks and knock-off medications. Healthwire Georgia has earned an outstanding position that will meet your expectations so you do not have to confirm its authenticity. You can order your drugs from Healthwire Georgia and get them delivered to your doorstep within a couple of hours.
Find Cheaper Simponi®
Simponi® is a monoclonal antibody that is not easily available without a prescription. Solely find cheaper Simponi® online. Get your hands on the medication but should have an original Prescribed Prescription from your doctor. If you do not have the strength to go out and buy medicine from the pharmacy then just relax at home, and we will deliver your medication to your doorstep.
Purchase Simponi®
Simponi® targets Tumor Necrosis Factor-alpha and pro-inflammatory molecules. You can purchase Simponi® from the most reliable and trusted drug provider, Healthwire Georgia. Healthwire Georgia has the Drug At A Cheaper Rate than the market. Our amazing services will save you time and money. Avail of our quick and reliable home delivery services now.
Order Cheaper Simponi® Online
Healthwire Georgia is an online drug store with a wide variety of original and elemental prescriptions. Rather than buying directly from the drugstore, you can simply Order Cheaper Simponi® Online from Healthwire Georgia. This way you will save money and time! Healthwire Georgia is here to dump all your worries with its fast and reliable services. Additionally, we provide quality products, so do not worry about the quality.
Side Effects of Simponi®:
Common side effects include but are not limited to:
Chills,
Fever,
Sore Throat,
Mouth Sores,
Lightheadedness,
Cough,
Shortness Of Breath,
Night Sweats,
Loss Of Appetite,
Weight Loss,
Tiredness,
Skin Sores,
Warmth,
Redness,
Diarrhea,
Stomach Pain,
Coughing Up Blood,
Increased Urination,
Burning Pain When Urinating,
Skin Growths,
Changes In Skin Appearance,
Swelling Of Your Ankles Or Feet,
Vision Changes,
Numbness Or Tingly Feeling,
Weakness In Your Arms Or Legs,
Pale Skin,
Easy Bruising Or Bleeding,
Right-sided Upper Stomach Pain,
Loss Of Appetite,
Dark Urine,
Clay-colored Stools,
Yellowing Of The Skin Or Eyes (Jaundice),
Muscle Or Joint Pain,
Skin Rash On Your Cheeks Or Arms That Worsens In Sunlight, And
Red Or Scaly Patches Of Skin, Flaking Or Pus
Infections,
Cold Or Flu Symptoms,
Abnormal Liver Function Tests,
High Blood Pressure,
Rash, And
Pain, Itching, Redness, Or Swelling Where The Medicine Was Injected
Cautions To Take Simponi®:
You should not use Simponi® if you are also using abatacept or anakinra.
Call your doctor if you have a fever, chills, aches, tiredness, cough, skin sores, diarrhea, or burning when you urinate.
Tell your doctor if you ever had tuberculosis or hepatitis B, Simponi® can cause these conditions to come back or get worse.
You should not use Simponi® if you are allergic to Simponi®.
To make sure Simponi® is safe for you, tell your doctor if you have ever had:
Active Or Chronic Infections;
A Nerve-muscle Disease Such As Multiple Sclerosis Or Guillain-barré Syndrome;
Cancer Or Lymphoma;
Congestive Heart Failure;
Psoriasis; Or
If You Are Scheduled To Receive Any Vaccine.
Frequently Asked Questions
1. How should I use Simponi®?
Use Simponi® exactly as prescribed by your doctor. Use Simponi® exactly as directed. Simponi® may also be injected under the skin once every 2 to 4 weeks. A healthcare provider may teach you how to properly use the medication by yourself.
2. What should I tell my doctor before starting treatment with Simponi®?
Tell your doctor about all your medical conditions, including if you:
have an infection.
have or have had lymphoma or any other type of cancer.
have or had heart failure.
have or have had a condition that affects your nervous system
have recently received or are scheduled to receive a vaccine.
have been using Simponi® during your pregnancy.
are allergic to rubber or latex.
are pregnant or breastfeeding
Tell your doctor about all the medicines you take
3. Who can take Simponi®?
Simponi® is a very effective drug for many people with arthritis. But it's not suitable for everyone. You will also need blood tests before you start the treatment, to work out how active your condition is and to check whether the drug is suitable for you. This drug should be used with caution if you have infections that repeatedly come and go.
3. What if I miss a dose?
Use Simponi® regularly for better results. Always consult your doctors about miss dose or overdose. Seek emergency medical attention immediately in case of any problem.