What is Orencia®?
Orencia® (abatacept) is a protein that stops the immune system from attacking healthy tissues like joints. The immune system aids in the fight against infections in the body. In persons with autoimmune illnesses, the immune system misidentifies and attacks the body's own cells as intruders. Orencia® is a Prescription Medication used to treat the symptoms of rheumatoid arthritis and to prevent joint deterioration. This drug is only for adults and children over the age of two. Orencia® is also used to treat adults with active psoriatic arthritis. Orencia® isn't a cure for autoimmune disorders; it just treats the symptoms.
What Orencia® is Used For?
Orencia® contains abatacept; a medicine which is used to treat:
Moderate to severe rheumatoid arthritis in adults.
Severe, active, and progressive rheumatoid arthritis.
Psoriatic arthritis in adults.
Polyarticular juvenile idiopathic arthritis.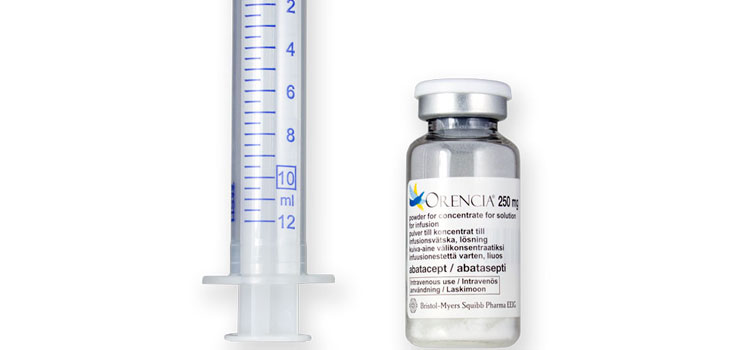 How Orencia® is Given?
Your healthcare practitioner will tell you how to inject Orencia®. A different site should be used for each new injection. Each new injection site should be approximately 1 inch (2.5cm) from where you last injected Orencia®. The recommended dose is 125mg per week regardless of your weight and Orencia® should be injected under the skin. The Subcutaneous Injection can be given with or without an intravenous loading dose. Your doctor will determine whether you will receive an intravenous loading dose prior to using your solution for injection.
Who Should Not Take Orencia®?
Do not use abatacept if you are allergic to abatacept or any ingredients of the medication have or are at risk of Sepsis Syndromes (an infection that spreads through your body), such as people with weakened immune systems and people with HIV.
Buy Orencia® Online
Healthwire Georgia is the most reliable and trusted drug provider. You can now Order Orencia® Online from Healthwire Georgia. Our medicines are cheaper, but that does not mean they lack quality or quantity. Our home delivery services are efficient and reliable. You just have to call us, and we will be right at your doorstep.
Where To Buy Orencia® Medications Online
Are you looking for a reputable place to Buy Orencia® Medications? Then there is no one more reliable than Healthwire Georgia. Healthwire Georgia makes sure to provide the best quality drugs at affordable prices to the residents. You can get your medication delivered to your doorstep by ordering online throughout. To order Orencia® now you just need to call us at Healthwire Georgia and we will reach to you as soon as possible!
Buy Cheaper Orencia® 250mg Online
Now you can easily Purchase Orencia® 250mg Online from Healthwire Georgia. Get your desired quantity of medication right at your doorstep by purchasing from us at lower prices. You do not have to worry about the authenticity of the drug because Healthwire Georgia has earned a very good reputation for decades. Our services are efficient and reliable so do not hesitate and order now!
Find Cheaper Orencia® Online
Order cheaper Orencia® online from the most reliable drug provider, Healthwire Georgia. If you buy from Healthwire Georgia then you can get authentic medicine at more economical prices and the quality will be the same for sure! So, just sit back and order medicine with the Orencia® Home Delivery facility. With Healthwire Georgia you will get authentic and genuine medicines including Orencia®.
Purchase Orencia® Online
Healthwire Georgia has earned a good reputation and it is trusted by all the customers. Healthwire Georgia is reviewed positively for its quick and efficient services. You can now easily find Cheaper Orencia® Online from Healthwire Georgia because we have the best quality medicines. The out-of-pocket prices of Orencia® will save quite a lot of money. Stop thinking about the authenticity and quality of our products and order now. You can just sit back and relax and leave the rest of the hassle to us.
Order Cheaper Orencia® Online
To purchase Orencia® online with a 100% guarantee of authenticity and originality, call us at Healthwire Georgia. The rates Healthwire Georgia offers, are very affordable and reasonable and ensure a genuine drug. To avail of our efficient and quick services to Buy Orencia® At Cheaper Rates, call us at Healthwire Georgia and we will reach to you as soon as possible.
Side Effects of Orencia®:
Common side effects include but are not limited to:
Headache
Nausea
Diarrhea
Stomach Pain
Indigestion
Dizziness
Flushing
Back Pain
Cold Symptoms Such As Stuffy Head/Nose, Sneezing, Sore Throat, Or Cough
Fever
Chills
Night Sweats
Flu Symptoms
Weight Loss
Feeling Very Tired
Fatal Infections
Shortness Of Breath
Changes In The Amount Of Urine
Pain When Urinating
Severe Abdominal Pain
Cautions To Take Orencia®:
You should not use Orencia® if you are allergic to abatacept.
Before using Orencia®, tell your doctor if you have ever had tuberculosis.
Tell your doctor if you are pregnant or breastfeeding.
To make sure Orencia® is safe for you, tell your doctor if you have ever had:
A Weak Immune System
Any Type Of Infection Including A Skin Infection Or Open Sores
Infections That Go Away And Come Back
Copd (Chronic Obstructive Pulmonary Disease)
Diabetes
Hepatitis
If You Are Scheduled To Receive Any Vaccines
Frequently Asked Questions
1. What should I avoid while taking Orencia®?
Orencia® and other medicines may affect each other, which could cause serious side effects. You should avoid taking Orencia® with other biologics that may affect your immune system. Tell your doctor if you are taking other medicines. It is a good idea to keep an up-to-date list of all of your medicines, vitamins, and herbal supplements on hand to show your doctors.
2. How will I receive Orencia®?
Orencia® is available in two forms, as intravenous (IV) infusions and as subcutaneous (SC) injections. Orencia® infusion is given by a healthcare provider through a vein in your arm.
3. What if prefilled syringe appears to be broken or damaged?
Do not use the prefilled syringe. Contact your healthcare provider for further instructions.
4. Is it a normal to feel a little bit of burning or pain during injection?
You may feel a prick from the needle. Sometimes, the medicine can cause slight irritation near the injection site. Discomfort should be mild to moderate. If you have any side effects, including pain, swelling, or discoloration near the injection site, contact your healthcare provider.
5. What should I avoid while using Orencia®?
Do not receive a "live" vaccine while using Orencia®, and for at least 3 months after your treatment ends. Tell your doctor at once if you develop signs of infection.