What is Saypha®?
The Saypha® is developed by using high-quality, and non-animal derived hyaluronic acid in a sterile, non-soluble gel implant. This treatment is CE-certified to smooth out lines and wrinkles, contour areas such as the chin and lips, and add volume to the cheeks. FDA has approved the use of hyaluronic acid fillers because they only remain temporarily and get absorbed by the body over time. Saypha® also offers Skincare Products, such as facial masks, so patients can continue to see results from their homes.
What is Saypha® Used For?
Saypha® Filler is specially formulated as an effective anti-aging treatment to correct moderate to severe wrinkles, including:
Marionette lines (the lines extending from the corners of the mouth to the chin)
Glabellar lines (the vertical lines between the eyebrows)
Perioral Lines (the fine lines around the mouth)
Nasolabial folds (the lines extending from the corners of the nose to the mouth)
Once injected, the facial creases are reduced with a natural-looking finish. Moreover, lip augmentation can also be done using this soft-tissue filler.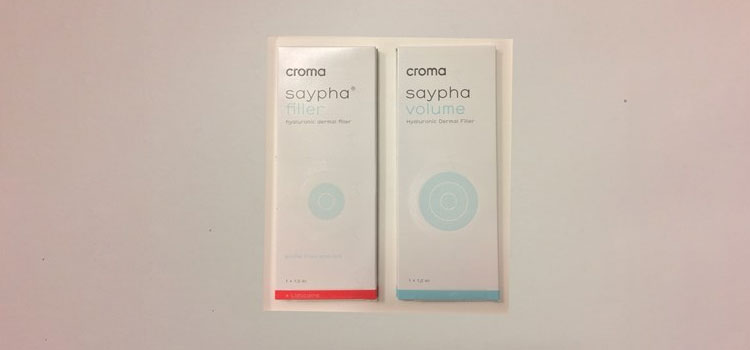 How Does Saypha® Dermal Filler Work?
The aging process is distinctly noticeable on the skin. Usually, mature skin appears dry and flaky and maybe Strewn With Lines And Wrinkles. These skin issues occur due to a decreased rate of cellular renewal and repair, as essential substances, like hyaluronic acid and collagen, do not function as efficiently as before. With this, Desquamation Of Dead Skin Cells and skin injury repairs happen at a much slower rate, causing the skin to become dry and wrinkled. These skin issues are worsened when harmful free radicals, including those from external sources like smoking and pollution, attack the already weakened skin. As aging intensifies, the skin becomes drier, and wrinkles become more prominent.
How To Inject Saypha®?
Soft tissue filler injections are a type of medical procedure, and should only be conducted by certified medical practitioners who are specialized in aesthetic treatments. Injections are actually minimally invasive procedures, and rigorous aseptic practice must be utilized throughout treatment sessions to reduce the risk of infection. Before injection, please analyze your patients' medical information to ensure both their safety and suitability to receive Saypha® Filler injections. As part of aseptic guidelines, Sanitize The Proposed Correction Sites carefully and assemble the sterilized syringe and needle by following the instructions on the package insert. Once ready, inject the filler gel via mid to deep dermis injection techniques, gently massaging the treated regions after injection to ensure good gel integration.
Buy Saypha® Online
Buy Saypha® online from the most reliable and Trusted Drug Provider, Healthwire Georgia. Saypha® is a dermal filler that is quite expensive for an average resident to buy. Therefore, rather than buying directly from the drugstore, you can simply Order Cheaper Saypha® Online from Healthwire Georgia. This way you will save money and time!
Where To Buy Saypha® Prefilled Syringe
Are you stressed as to where to Buy Saypha® Prefilled Syringes? Healthwire Georgia has got your back. Of course, before purchasing the drug, you always have to check reviews of the seller carefully to avoid quacks and knock-off medications. But Healthwire Georgia has earned an exceptional reputation that will satisfy your worries. So, avail of our amazing services.
Buy Cheaper Saypha®
Are you looking for somewhere to buy Cheaper Saypha® 23 mg/ml Online? Then do not worry at all because Healthwire Georgia has the drug at a cheaper rate than the market. So you can get your hands on the medication but should have an Original Prescribed Prescription from your doctor. We also provide a home delivery facility so get your medication at home now.
Find Cheaper Saypha®
Healthwire Georgia has a complete range of hyaluronic acid fillers in stock. Are you thinking of Buying Saypha® Medication for beauty treatment but do not know from where? Then, find cheaper Saypha® 3mg/ml from none other than Healthwire Georgia. Then, you can order it from us and get it delivered to your doorstep within a couple of hours.
Purchase Saypha®
Who does not want to look youthful and beautiful again? If your dermatologist has prescribed you this medication for getting rid of the wrinkles and fine lines, then purchase Saypha® 18 mg/ml online from Healthwire Georgia. Then, you just have to Order Saypha® Online, and we will deliver the product to your doorstep.
Order Cheaper Saypha® Online
If you want to look young and beautiful again, then Order Cheaper Saypha® Online from Healthwire Georgia to restore the volume and youth of your face. Healthwire Georgia is here to eliminate all your concerns with its quick and dependable services. Also, we provide Quality Medical Products, so do not worry about the quality. Avail of our services now.
Side Effects of Saypha®:
Common side effects include but are not limited to:
Redness
Pain
Swelling
Itching
Bruising
Lumps
Bumps
Tenderness
These symptoms are usually mild to moderate and disappear on their own in less than 7 days. Patients are able to return to their daily activities as normal directly after this procedure.
Cautions To Take Saypha®:
Treatments with Saypha® must not be used on the following patients:
Patients who tend to develop hypertrophic scarring
Patients with a history of autoimmune disease or who are receiving immune therapy
Patients who are known to be hypersensitive to hyaluronic acid
Women who are pregnant or breastfeeding
Patients under 18 years
Areas presenting cutaneous, inflammatory. or infectious processes
Frequently Asked Questions
1. How does the Saypha® treatment work?
Depending on your skin and needs, Saypha® filler meets your needs and expectations. There are 3 products in the Saypha® range namely: Saypha® FILLER Lidocaine is used to correct moderate to severe facial wrinkles and folds and to increase lip volume and for reconstructive treatment Saypha® VOLUME Lidocaine is used to correct deeper wrinkles and folds, increase or restore volume to the face, and remodel facial contours and for reconstructive treatment. Saypha® VOLUME PLUS is for facial tissue augmentation in order to correct midface volume deficit, for restoring facial volume, and shaping the contours of the face.
2. Is Saypha® treatment painful?
The Saypha® filler injections are done with very fine needles and are usually pain-free. Subject to the treated area and your sensitivity, anesthetic cream or block can be applied prior to the procedure.
3. How long will the results last?
The results of aesthetic treatment with Saypha® Fillers are long-lasting, but not permanent. Saypha® filler is absorbable by the body and its results last between 6-10 months.
4. Why should I choose Saypha®?
By re-establishing your natural HA level, Saypha® fillers help to reverse the signs of aging making you look younger, fresher, and more radiant.
Optimal skin tolerance - Usage of hyaluronic acid of non-animal origin.
Painless treatment - The addition of lidocaine and the usage of thin wall needles makes the injection even more comfortable for you.
Immediately visible - Instant results with a natural effect
Natural effect and exceptional product performance - Results last for several months